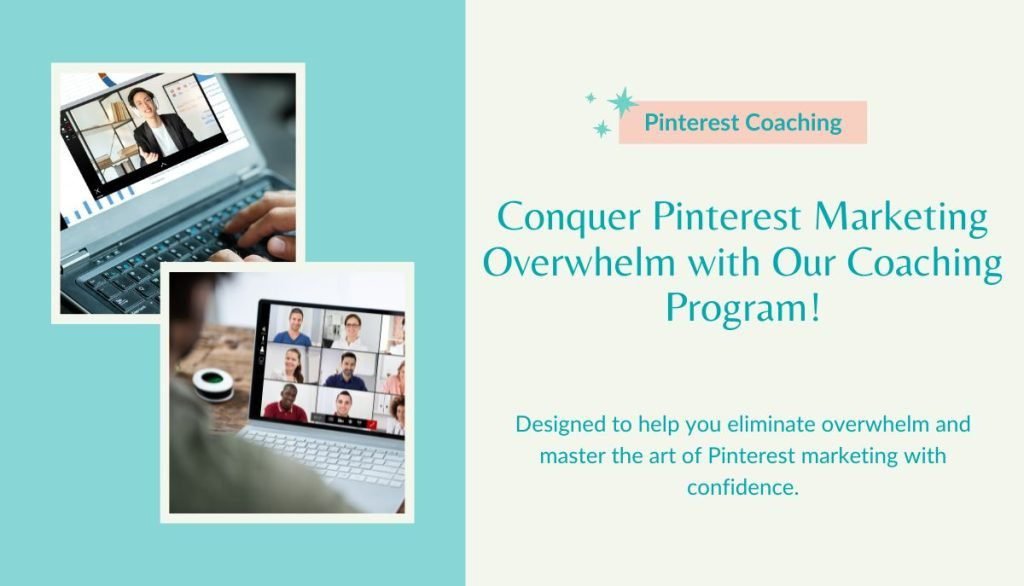 Are you feeling overwhelmed by the complexities of Pinterest marketing? We have the solution for you! Our coaching program is designed to help you eliminate overwhelm and master the art of Pinterest marketing with confidence.
In this program, we provide you with the step-by-step guidance and support you need to tackle Pinterest marketing like a pro. Rea, our head Pinterest Marketing Specialist will break down the process into manageable tasks, providing clarity and direction at every stage.
Say goodbye to confusion and frustration as we help you:
Understand the fundamentals of Pinterest marketing
Streamline Your Pinterest Marketing with Our Time-Saving Workflow!
Spend less time on Pinterest marketing and more time on what matters most in your business and life! Our workflow system is designed to optimize your Pinterest marketing tasks, freeing up valuable time for other priorities.
With our streamlined workflow, you'll:
Efficiently manage your Pinterest presence
Automate repetitive tasks for increased productivity
Stay organized and focused on key objectives
Maximize results with minimal effort
Have more time for business growth and personal pursuits
Stop juggling endless Pinterest tasks and start reclaiming your time. Join our workflow program and experience the freedom and balance you've been craving in your business and life!
Get a pinning strategy for maximum impact
Optimize your pins to reach the right audience
Generate quality traffic and leads for your website
Leverage the power of Pinterest analytics to make informed decisions
With our proven methods and personalized support, you'll gain the knowledge and skills to navigate Pinterest marketing effortlessly. No more overwhelm—just actionable strategies and measurable results.
Don't let Pinterest marketing overwhelm or hold you back any longer. Join our coaching program today and unleash your Pinterest marketing potential with ease!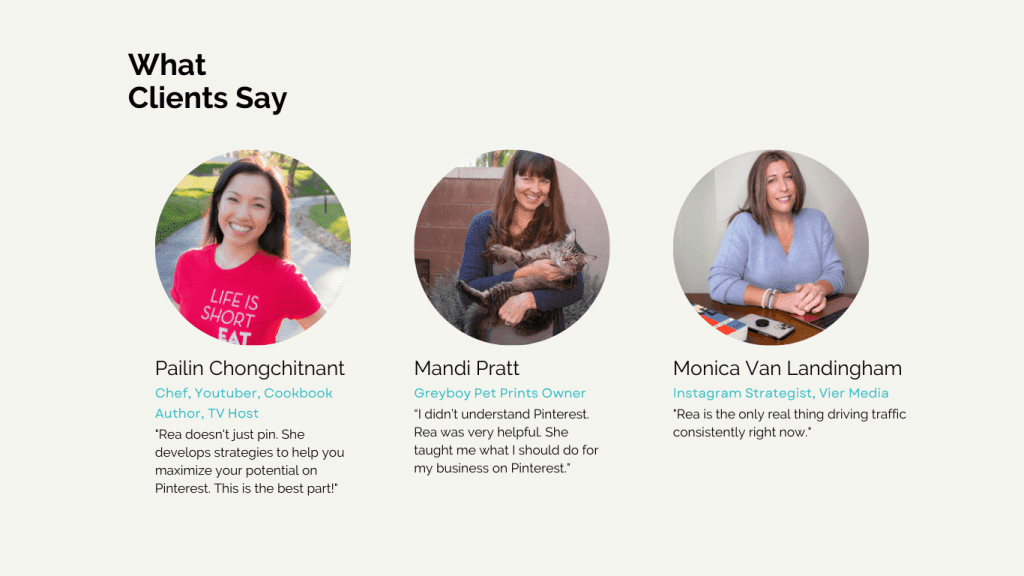 During the coaching sessions, you'll gain invaluable knowledge, including:
How to find the perfect keywords to skyrocket your Pinterest visibility.
Proven techniques for optimizing Idea Pins using the Pinterest App.
Unlocking the power of Pinterest Metrics and leveraging them to your advantage.
Strategies to optimize your static images for maximum impact.
Setting up your website to seamlessly integrate with Pinterest for optimal performance.
AND…When you enroll in our Pinterest 1:1 Coaching Session, you'll also receive:
One month of dedicated support from our expert coach. We'll be available to assist you via phone calls (for US participants), the Clubhouse app, Zoom calls, Voxer, email, or any medium of your preference. We're here to ensure your success!
A copy of the recorded coaching call for future reference. You can revisit the valuable insights and guidance shared during the session at your convenience.
A comprehensive PDF summary of everything covered during the call. This handy document will serve as your reference guide, allowing you to implement the strategies effectively.
Don't miss this opportunity to take your Pinterest game to new heights. Invest in our Pinterest 1:1 Coaching Session today and unlock your brand's full potential on this thriving platform!
Click below to secure your spot now and start driving remarkable results with Pinterest.