Description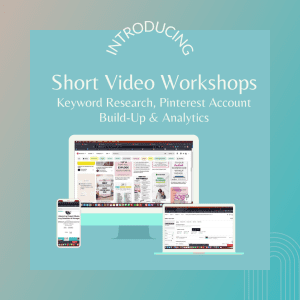 Unleash Pinterest's Potential with Our Exclusive Workshop Bundle!
Are you ready to revolutionize your business's success on Pinterest? Look no further! We present to you our must-have workshop bundle, meticulously crafted to equip you with the essential knowledge and skills to dominate the Pinterest game like never before.
Inside this bundle, you'll discover not just one, but three immersive Pinterest short video workshops, each designed to transform you into a Pinterest powerhouse:
1. Keyword Research: Unlock the Secrets to Pinterest SEO!
In this first workshop, we dive deep into the art of keyword research on Pinterest. Learn how to identify the most impactful keywords and phrases that will skyrocket your visibility and attract a flood of engaged users to your boards. Unleash the full potential of Pinterest's search algorithms and watch as your content rises to the top of search results, driving an avalanche of targeted traffic to your business.
2. Understanding Pinterest Analytics: Decode the Language of Success!
Pinterest Analytics holds the key to unlocking invaluable insights into your business's growth and performance. Our second workshop takes you on a guided tour through this powerful analytics tool, unraveling the mysteries behind every metric and term. Gain a comprehensive understanding of your audience's behavior, preferences, and engagement patterns, enabling you to fine-tune your marketing strategy with surgical precision and achieve unparalleled results.
3. How to Build Your Pinterest Account: Lay the Foundation for Success!
Ready to build a robust and captivating Pinterest presence? Our third workshop is your roadmap to success! Learn the art of building your Pinterest account from scratch, right from creating attention-grabbing boards to optimizing your profile for maximum impact. Along the way, you'll discover insider tips and tricks that will catapult your growth, ensuring your Pinterest account becomes a magnet for engaged followers and enthusiastic brand advocates.
Each workshop is packed with concise, actionable tips, and strategies, delivered through captivating short video tutorials. Whether you're a beginner or a seasoned pro, our workshop bundle is designed to meet you where you are and propel you to new heights of Pinterest success.
Don't miss out on this incredible opportunity to master the art of Pinterest marketing. Order our exclusive workshop bundle now and witness firsthand the transformative power of Pinterest for your business. Get ready to elevate your brand, expand your reach, and enjoy unparalleled success in the digital realm!