It can take a lot of time to create pins for Pinterest. We want to know many time-saving tips as much as we can.
Fortunately, there are a few shortcuts and pointers that might help you create more quickly. In order to make your work less stressful and more effective, we'll show you 5 various approaches to batch produce pin designs in this blog post.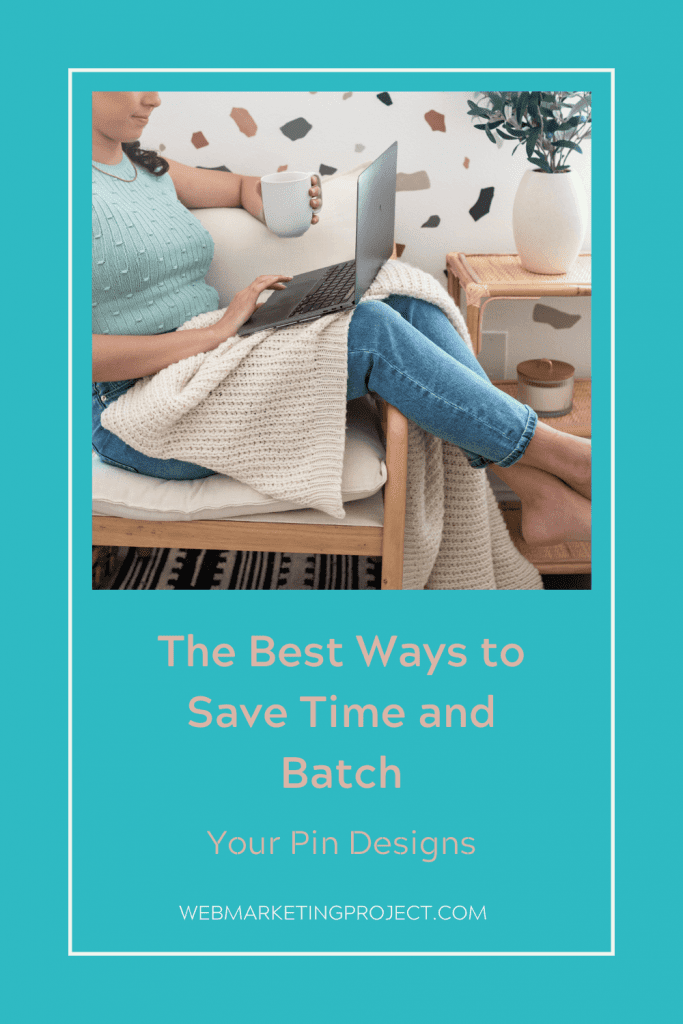 How to Make Your Pinterest Pin Designs in Bulk
1) Use Old Content in New Ways
Make sure you are reusing your content from other platforms to have a ton of new pin designs to share on Pinterest. Have you designed a fantastic Instagram story graphic? Post it as an idea pin on Pinterest.
Have you produced an engaging Instagram video? As a video pin, post it to Pinterest.
The content you produce for your other social media platforms should be distributed to the globe in a variety of ways. Making pins from this content will help bring more visibility to your company. In addition to that, you are also coming up with brand-new, original designs every day!
2.) Utilize Canva templates to save time
This part features some affiliate links. It means we'll earn a small commission or reward if you purchase through these links.
You can quickly create many pin designs with Canva Templates, which will save you a ton of time. I suggest buying templates or utilizing the ones that come with Canva. You should be sure to edit them a little to make them uniquely yours.
I recommend two places to get great pin design templates from these two places: Entrepreneur templates by Tara Reid. She is a great designer for all things digital. She has tons of templates for your Pinterest pins and other social media channels.
Another place where I love getting templates is Pin Potential. These pin templates are masterfully designed with a touch of a skillful Pinterest marketer
One of the best methods to market your company is with pin designs, and producing pins in mass is a terrific way to speed up the process.
3) Vary the text and fonts
While pin designs should be appealing to the eye, they also need to be meaningful or include a call to action. Replace the text or fonts in your templates to make adjustments. For this blog article, I might use a variety of headlines, as demonstrated by the following examples:
The Best Techniques for Batching Your Pin Designs to Save Time
5 Tips for Making Pin Designs That Convert More Frequently
The Secret to a Time-Saving Pinterest Marketing Strategy
It's a good idea to test and mix your designs with several titles to determine which phrase will connect with your audience the most.
4) Batching many template designs
Test and experiment with batching your material using various template designs for your pin designs. Then, create infographic templates as an additional way to test your designs, as well as templates for animated video pins.
5.) TRY TAILWIND'S CREATE FEATURE
This part features some affiliate links. It means we'll earn a small commission or reward if you purchase through these links.
Tailwind started as a robust scheduling tool for Pinterest. Now, they have Tailwind Create. It's a tool where you literally just put in your link, text, and photos. Then, it will give you hundreds of options to choose from. You can customize some things on the pins as well. This is a huge time-saving tool!
6.) Don't be hesitant to experiment
Although Pinterest is one place where you should explore different layouts, colors, graphics, and fonts, we still want your pin designs to be true to your brand. You don't have to adhere to your aesthetic exclusively because your pins on Pinterest are what matter. So, be more willing to test since few people check all of the pins on your profile.
In Conclusion, create more new pin designs using these ideas and tricks, and you'll always have material for your Pinterest marketing approach. You can also order custom pin designs here suited to your specific industry!
Visit my services page and let's talk if you have any questions about Pinterest or want to outsource your Pinterest work.