Table of Contents
Reasons Your Pinterest Account is Deactivated
Pinterest may deactivate or suspend accounts that violate its terms of service. Here are some of the most common reasons why a Pinterest account may be deactivated:
Violation of community guidelines: Pinterest has strict community guidelines that users must follow. If you post content that is considered spammy, inappropriate or violates community guidelines, your account may be deactivated.
Copyright infringement: If you use images or other content on Pinterest that you don't have the right to use, your account may be deactivated for copyright infringement.
Suspicious activity: If Pinterest detects suspicious activity on your account, such as a large number of requests, or unusual login locations, it may deactivate your account to protect your account security.
Inactivity: If you haven't used your Pinterest account for a long time, Pinterest may deactivate it due to inactivity.
Multiple accounts: If you create numerous Pinterest accounts using the same email address or phone number, or if you create fake accounts, Pinterest may deactivate all of your accounts.
If your Pinterest account has been deactivated, you may be able to recover it by following the account recovery steps provided by Pinterest. If your account has been permanently deleted, you must create a new one to continue using Pinterest.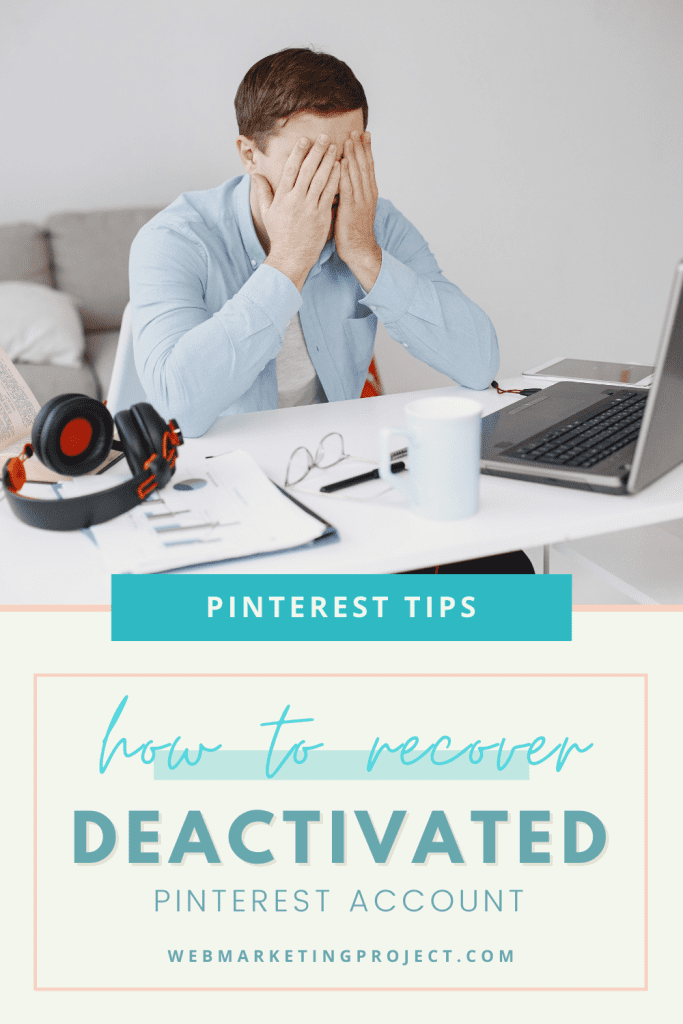 Why do You need to recover your Pinterest account?
There are a few reasons why you may want to restore your deactivated Pinterest account:
Access to saved content: If you have saved a lot of content on your Pinterest account, such as pins and boards, you may want to restore your deactivated account to regain access to that content.
Personal or business branding: If you have a personal or business brand on Pinterest, you may want to restore your deactivated account to maintain your online presence and brand identity.
Traffic and engagement: If you use Pinterest to drive traffic to your website or blog, or to engage with your audience, restoring your deactivated account can help you regain that traffic and engagement.
Time and effort: If you have spent a lot of time and effort building your Pinterest account, restoring a deactivated account can save you the time and effort of starting over from scratch.
Historical data: If your account has historical data, such as analytics or metrics, you may want to restore your deactivated account to maintain that data for future use.
Overall, restoring a deactivated Pinterest account can help you regain access to valuable content, maintain your online presence and brand identity, and save you time and effort.
How to Recover your Pinterest account
If you are having trouble accessing your Pinterest account, there are several steps you can take to recover it:
Reset your password: If you can't log in to your Pinterest account because you've forgotten your password, you can reset it by clicking on the "Forgot Password" link on the login page. Pinterest will send you an email with instructions on how to reset your password.
Check your email: If you have received an email from Pinterest saying that your account has been suspended or deactivated, follow the instructions in the email to restore your account.
Contact Pinterest support: If you're still having trouble accessing your account, you can contact Pinterest support. Go to the Pinterest help center and click on "Get help with your account." Select the option that best describes your issue, then follows the prompts to contact support.
Provide proof of identity: If Pinterest support requires evidence of your identity to verify your account, you may need to provide a government-issued ID or other documentation.
Be patient: The account recovery process can take some time, so be patient and wait for a response from Pinterest support. In the meantime, don't try to create a new account using the same email address or phone number associated with your old account, as this may cause further problems.
Overall, recovering your Pinterest account requires following the appropriate steps and providing the necessary information to Pinterest support.
Contact us if you need support in restoring your Pinterest account.