Table of Contents
The market value of the coaching industry has increased dramatically in recent years to over $1 billion. Those who have been successful have mastered how to get more leads for their coaching business.
There are several routes you may take to scale your business and boost your earnings, whether you're a new coach or an established one. One-on-one coaching, group coaching, online courses or training, and a coaching team are typical coaching business models. There are numerous approaches to launch your coaching business in order to enhance workflows, develop your brand, and boost revenue.
Making the switch from private coaching to group coaching is one way to grow your business. By doing so, you can interact with more customers at once and foster a sense of community among them. If your clients feel that group coaching lacks the individualized attention of one-on-one coaching, think about offering individual sessions as an upsell. To service more clients and expand your clientele, another choice is to assemble a coaching team.
Regardless of the model you choose, streamlining workflows, establishing your brand, and raising income are crucial for developing your coaching business. You can accomplish outstanding success in the developing coaching sector with the appropriate tactics and resources.
The Importance of Marketing your Coaching Business
Marketing your coaching business is critical for bringing in new clients and expanding your business. Learning how to generate leads is an essential part of the business.
You may optimize the potential of your coaching business by identifying and targeting a particular audience, establishing clear goals, and utilizing the strength of search engines, social media, and email marketing.
To differentiate yourself from the competition, it's essential to define a specialty for your coaching business and to be as detailed as you can. You can concentrate on developing a targeted plan and use marketing technologies to assist more clients succeed by choosing the correct audience to target.
The Role of Search Engines in Your Marketing Strategy
Any effective marketing strategy must include search engines, and marketing for coaches is one area where they are especially crucial. A number of benefits make search engines like Google, Pinterest, and YouTube invaluable for promoting coaching services. One of the biggest advantage is that this is passive type of generating leads.

In comparison to conventional social media platforms, posting information on a search engine platform increases your long-term visibility because it can be found months or years after you publish it. Also, those who find your material through search are more likely to be interested in the products and services you offer. This raises the likelihood that the appropriate audience will see your material.
Another advantage of using search engines for marketing is that it doesn't take much work to get traffic to your website. The job is done for you by the search engine algorithms, and if your website has been properly designed, you may direct visitors down your customer journey path. Compared to some of the hustle-based methods that are frequently employed on social media, this takes significantly less time.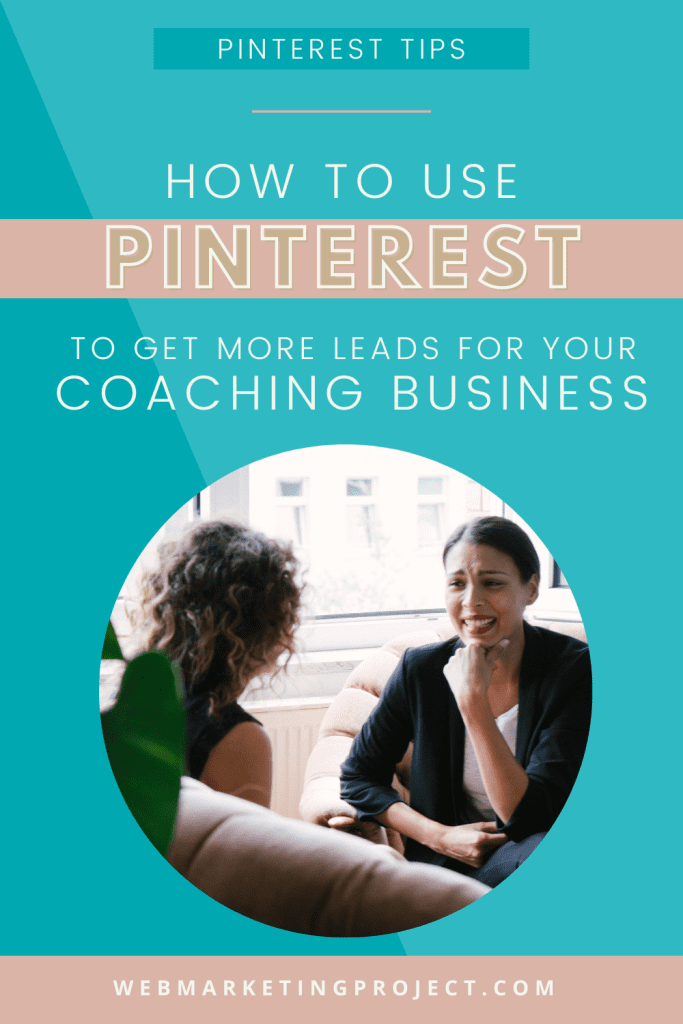 Pinterest is one of the most widely used platforms for search engine marketing, and it is not just for food, weddings, and home design. Relationships, self-development, and health-related themes are very huge on the platform. Users of Pinterest are more inclined to act and make purchases, making them a desirable group for coaches. Additionally, if you've invested in a website that is geared for conversions, it makes sense to use Pinterest for your coaching business since it generates more visitors to your website than any other social media platform.
Do you want to increase the number of cold leads you can find and add to your email list? The solution is Pinterest, then! Use Pinterest to connect with new potential clients and entice them to subscribe to your email list. You may use Pinterest to make pins for giveaways, videos, and blog posts that will draw in fresh cold leads and encourage them to click on your link and join your email list.
A Pinterest pin has the potential to remain live and active for a considerable amount of time, providing users with ongoing value and advantages. A Pinterest pin can easily develop into your most effective marketing tactic due to its capacity to stay current.

A pin is automatically given a lifespan when you create and publish it, and Pinterest indexes it so that it can show up in search results. This increases the chance that many people with related interests will see your pin.
A Pinterest pin's ability to garner views and potential customers will continue to increase with time. Users can find your pin in search results, peruse their feed, and even receive reminders about your content days, weeks, or even months after they originally viewed it.

This makes maintaining their interest and developing relationships with them quite simple. As more people click on and share your pins, you will also notice an increase in website traffic over time.
By carefully using Pinterest, you can extend the life of your pins and give them the ability to produce leads, increase website traffic, and accelerate your business's growth.

You may start giving them even more value and sharing even more of yourself once you have their attention. You can finally start utilizing Pinterest correctly and start producing a consistent flow of high-quality, focused leads for your goods and services with the help of my five exclusive tips for using Pinterest to attract customers.
I will give you detailed instructions in a Masterclass on how to get more leads for your coaching business. You'll discover how to identify the search terms used by your prospective clients and how to entice them to follow you on Pinterest.

You may get to know your customers and attract paying clients from them by investing in your email marketing and developing an email list. If you don't feel comfortable pushing your coaching offer to your subscribers, try setting up a discovery call for them instead. If not, use a P.S. statement to link them to your offer page.
You can amass a sizable email list of subscribers and potential customers using Pinterest. Use the platform to produce blog entries, videos, and pins for freebies that will draw in new cold leads and increase your company's revenue. So learn how to generate leads for your coaching business through a Masterclass session with us now and start utilizing Pinterest effectively!

You can make sure that the proper people see your material when they need it and develop a far more long-lasting marketing strategy by utilizing search engines for marketing. It's a good method to distinguish yourself from the competition and become an authority in your field.
Social Media in Marketing
Using social media as a platform to reach potential clients is also a great way to market your coaching business. With billions of active users on social media, it gives you an opportunity to create and share valuable content that will help attract potential clients. You can also use social media to run paid ads or promote content marketing pieces such as blog posts and infographics to help generate more leads.
Email Marketing Nurtures Your Leads
Finally, email marketing is a successful strategy for maintaining long-term contact with your leads. Automatic emails provide you the potential to create relationships and trust with your audience, and eventually convert them into paying clients.

You may develop a successful strategy to draw in new leads and expand your clientele by realizing the value of marketing your coaching business. In my other article, I talked about how to increase your email list using Pinterest. You may read it here.
Is time your problem?
Why not give it to us if you don't have the time to manage your own Pinterest account? My team and I have been working seamlessly to setup Pinterest accounts, grow them and use them as lead generation machine.
Fill up a form here to give us more details about you and your business goals.